CI Games just revealed a new incentive to those who are unsure of getting Sniper Ghost Warrior 3. Most games nowadays offer some sort of expansion or season pass, and Sniper Ghost Warrior 3 will be no different. In general, the season pass is gonna cost $29.99, however, CI Games is now offering the season pass for free to anyone who pre-orders the game, which is set to release April 7th (PS4 and PC). That is one hell of an incentive if I've ever seen one. A smart strategy on their part.
.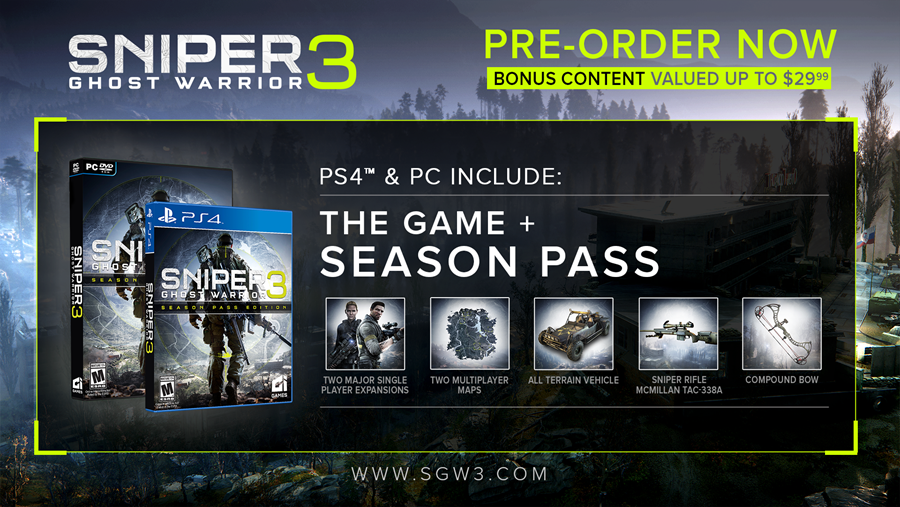 Let's all be honest, nobody really likes to pay for a season pass, but yet we still want to have one at the end of the day. Extra content on our favorite games is always nice. "We have a long-term investment in our community and believe that this season pass is a huge value to them," said CI Games CEO, Marek Tymiński. "Sabotage" is set to be the first major single player expansion, where players will take on the role of the separatists and experience the narrative from a different perspective. CI Games plans to roll out exclusive content drops and special events that will enhance the game throughout 2017.
The season pass on PS4™ and PC includes the following:
– Two major single-player expansions
– – The Escape of Lydia
– – The Sabotage
– Two multiplayer maps
– An exclusive all-terrain vehicle
– Two exclusive weapons:
– – The McMillan TAC-338A Sniper Rifle
– – Compound Bow
Players can pre-order the season pass following this link: http://sniperghostwarrior3.com/pre-order/.